H300
True German engineering from a
world-class elevator company.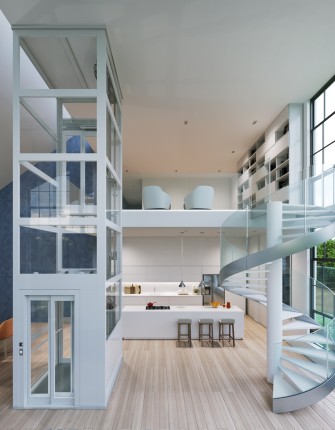 Embrace the best of Italian Design with a extensive range of sophisticated, elegant and stylish options. Find the perfect combination of colours, materials and options to ensure the perfect fit in your home.
From our world-class elevator expertise we have developed the best possible solution for a home lift which offers numerous configurations and a range of platform sizes for almost every requirement.
H300 utilises the best-available home lift technology, offering a solution which is extremely energy efficient and is near silent. Combine this with our thorough approach to engineering, and our love of Italian design, you are sure to have found a solution which is environmentally friendly, unobtrustive and will integrate beautifully into your home.
As for all of our home lifts, safety and comfort are the pillars of our design and they are delivered from our German heritage, the components used and our precise attention to detail. Join the TK Elevator family and become one of our thousands of satisfied home lift users. If you have any questions or require any more information about our products and services, please get in touch.
Ultra-quiet operation.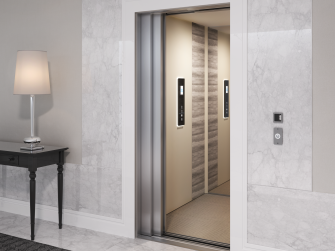 Through our expertise in engineering we have developed a high-quality gearless home lift which is ultra-quiet. The result is a high performance addition to your home that you hardly hear even when you put your ear right next to it. Combine this with our stop start technology, our beautiful cabin styles and options, and you've got the perfect home lift.
Safety is in our DNA.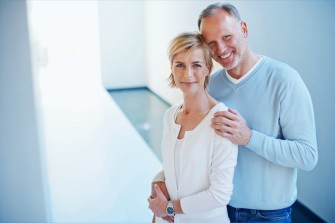 H300 home lift boasts an extensive list of safety features; as standard the mechanical components carry a SIL3 certified safety system making it the highest safety standard on the platform lift market. Unlike some home lifts, we have a separated safety system, away from the OSG, which means it will not be affected by mechanical faults. Your safety is our priority.
In case of a power failure, H300 will continue to work from a battery, allowing the user to reach the ground floor safely. It is also possible to connect fire alarm systems to the main electronic board on the home lift.
Comfort.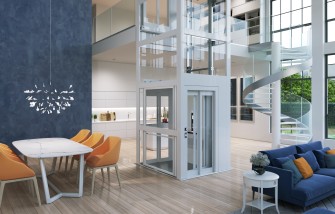 We believe travelling between floors in your home shouldn't be a difficult or uncomfortable experience. Taking advantage of the gearless technology found in H300 enables us to deliver a smooth and quiet journey from start to finish. In addition, all of thyssenkrupp's home lifts come fitted with soft-start/stop technology.
Each lift is fitted with a handrail and push to run buttons making the journey as seemless and safe as possible.
H300 home lift specification.
| Technical compliance | Machine Directive 2006/42/EC - EN81-41 |
| --- | --- |
| Drive system | Cogbelt and counterweight system driven by a gearless motor |
| Rated speed | 0,15m/s in Europe / [up to 0,4m/s outside EU] |
| Rated load | 250 – 400kg according to cabin dimensions |
| Travel height | 1100 – 18000mm |
| Number of stops | Max. 6 stops per lift |
| Number of doors | Max. 12 doors per lift |
| Pit | 140mm (no pit is required in case of threshold/ramp) |
| Shaft top height | 2500mm in existing shaft / 2600 with its own shaft |
| Platform control | Automatic (one-touch) with call reservation |
| Environment | Indoor / Outdoor |
| Emergency lowering | Uninterruptible Power Supply (UPS) lowering |
| Control voltage | 24V |